Library Move Scrapbook - Summer, 2012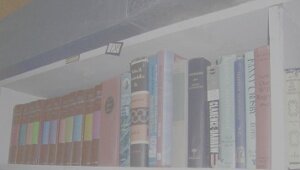 Library Move Scrap Book- Summer 2012

Page 3 of the Library move scrapbook. For description of the move, see Library Move Scrapbook. To see the new library, see New Library.
Old Library




The east side of the library, showing the old library children's section, tables, desks, and the collection of the Broadwater News.

Top


Volunteer James Kulacz helping to move boxes of books during the library's packing phase.



Sometimes our library is visited by people from out of town. In the foreground is pictured Steph Solverson of Camprose, Alberta. She found the library with people inside, came in, and sought refuge in the Broadwater Public Library during the move from high winds as she was bicycling from Alberta to Nicaragua while raising awareness and funds for completion of a Community Learning Center on Little Corn Island, in Nicaragua. While waiting for the winds to die down, she updated the blog of her journey as volunteers and staff packed and went through books - discovering that the Broadwater Library has a few rare, collectible, or particularly valuable books. This unique visitor visited with us, and broke the monotony of packing, sorting, and looking up books. Volunteer James Kulacz packs books in the background. This also provided an opportunity for some local residents of all ages to meet her and discuss everything from wildfires in Montana and Wyoming to Yellowstone National Park to realities of life in the third world, and later met other Broadwater residents. Such random occurrences serve to enrich life in Broadwater.

When staff are present in the library, it is open to the public for use during the move, provided that they excuse our mess.



Top


Broadwater visitor Steph Solverson updates her blog as she waits for winds to die down. She is cycling from Alberta to Bluefields Nicaragua to raise funds for a community and educational center there. To read more about her project, including in a small way her encounters with the people of Broadwater, see her blog or a better description of her project at www.commonthreadz.org/stephsolverson.
Go to Next Page
See New Library
Restart from begining
---
Website design and Hosting by Web-lectric
Copyright 2012 by Elizabeth Kulacz
All Rights Reserved
No part of this page may be copied as a whole or in part, except in brief citations under the "Fair Use" provision of US and International Copyright Law without written permission of the author.

Permission is explicitly granted for use of any photos associated with the Broadwater Library move scrapbook, for reposting in other websites, blogs, Facebook (TM), or for publication in any newspaper, so long as credit is given.