Library Move Scrapbook - Winter-Spring 2013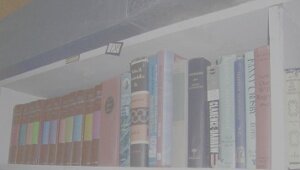 Library Move Scrap Book- Winter 2013

Pictures of the new library in the Library move scrapbook. For description of the move, see Library Move Scrapbook.
New Library
On March 23, 2013. This shows progression over the past 2 weeks. There are more books shelved, fewer full boxes.
The library is starting to look like a library! The new audiobooks donated by TEI Audiobooks are prominantly on display, for checkout by both busy and disabled patrons.
Boxes of uncataloged books remain, but the pile continues to get smaller.





The corner of the library still has extra folding chairs, and also has many more children's books on shelves, plus periodicals arranged on a shelf.

Top of Page



The mostly-empty lower shelves on this south wall are now filled with books for children. The Broadwater News are higher, some of the older, more fragile books are up high, along with other supplies.

Top of Page




Top of Page

Restart from begining
---
Website design and Hosting by Web-lectric
Copyright 2012, 2013 by Elizabeth Kulacz
All Rights Reserved
No part of this page may be copied as a whole or in part, except in brief citations under the "Fair Use" provision of US and International Copyright Law without written permission of the author.

Permission is explicitly granted for use of any photos associated with the Broadwater Library move scrapbook, for reposting in other websites, blogs, Facebook (TM), or for publication in any newspaper, so long as credit is given.